Proudly Made in the U.S.A.
SCAD's new higher output Sensibulbs are here!!
Note: New "Soft White" is now 35% brighter than our previous "Daylight White" Sensibulb™
Practical Sailor's Highest Lumen output of any LED replacement bulb!
Sensibulb™ is the brightest output LED cabin light bulb replacement unit and directly replaces the performance of halogen and xenon bulbs without the hazardous heat, high power consumption or UV emissions. Don't be fooled by products with more LED's per unit. At the end of the day (literally)the Sensibulb™ is the brightest LED bar none!

The Sensibulb™ uses the latest LED technology and does not use Chinese LED's that may look similar but are are not as bright. Proudly Made in America the Sensibulb™ is the latest marine-grade technology.

Sensibulb™'s unique design uses only two high-output devices each, the Sensibulb is far brighter and will stay far brighter longer (thanks to our new thermal feedback circuit) than any other LED light bulb replacement product. We guarantee it!
Please know, the Sensibulb™ features advanced EMI filtration that completely eliminates all marine radio interference found in other LED products.
So take the Sensibulb™ Challenge. Compare the Sensibulb™ to any other LED replacement light. If it's not the brightest we'll take it back and refund your purchase price including shipping.

For bayonet style light sockets you will need our bayonet to G4 adaptor
Installation is as easy as 1,2,3....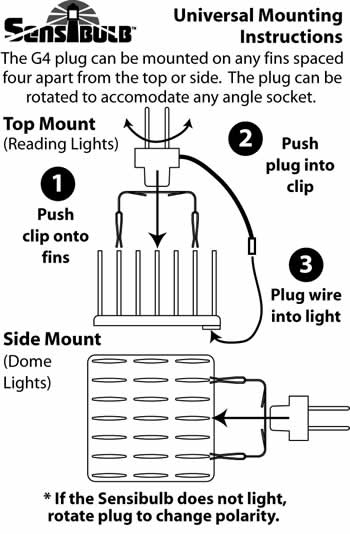 Features & Benefits:
Soft warm light - very comfortable on the eyes
Intensity - brighter than most halogens used onboard
Intensity compared - brighter than all other LED cabin light bulb replacement units - guaranteed!
Low heat - <150 degrees F
Very Low power consumption - Uses only 20% of the power of standard cabin light bulbs!
Low glare - great for reading!
Broad 120° focus - perfect for overhead, dome and reading lights
50,000-hour life expectancy
No harmful UV emissions - easy on the eyes
No radio interference - your SSB, phone, GPS and VHF radio will not be interfered with
Mounts vertically or horizontally - installs anywhere
Plugs into halogen bulb sockets or use our handy adaptor for older style sockets
Fits in most overhead dome lighting fixtures (measures 1.00" L x 1.00" W x 5/8" H)
Fits in most berth / reading lamps - comfortable low-glare for reading
Highest Light output efficiency LED product to-date (February 2008)
Built in dimmer logic works with most standard dimmers or our optional mini-dimmer
Testimonials
We tried an experiment on our own 46' Hylas with halogen, Sensibulb and another 'warm-as-you-can-get' LED lamp. We found that nothing produces color quite as warm as the halogen, but nothing's quite as hot, either, and nothing draws more amps, making the golden light quite a bit less attractive off the grid. The Sensibulb gives excellent brightness with a small sacrifice of color warmth. The other LED, one of the best on the market, ran a distant third, washing our teak lockers with a decidedly unhappy greenish hue. Sensibulb was the hands-down winner and we plan to refit the entire boat with Sensibulbs and Sensibulb Minis. Thanks for developing such a great product.
Bev - sv Mersoleil


I LOVE the Sensibulbs! I can turn on all the cabin lights and the ammeter hardly registers any change. And the light is bright and warm. Great job!!
Page G., S/V Watercolor, Port Canaveral, FL


I purchased my first sensibulb a couple of years ago, and thought it was the best bulb I've ever owened. But I have just received one of the new sensibulbs which is much brighter, a bit smaller and very easy to install. I now have a new "Best Bulb I've Ever Owned"
Jim, Palm Springs,California


"WOW!!!! Worth the wait. This is GREAT!!! I will be sending you another order shortly. Thanks."
Jeff S/V Calypso Westsail 32


"The folks at Sailor's Solutions have done some impressive developmental work to produce a unit that is optimized for temperature and light color output."
- Ocean Navigator, September 2007
Click here to see the full article.


"I was most impressed with the Sensibulb's ability to produce an equivalent and broadly distributed amount of light when compared to the incandescent bulbs."
- WoodenBoat Review, September 2006
Click here to see the full article.


"Sensibulb™ is thoughtfully designed and well-constructed."
- Soundings August 2006
Click here to see the full article.


"Just wanted to let you know that the new bulb was worth the wait. I liked the Sensibulb and love the Sensibulb™ 2. It's everything that you said it would be."
- Greg Kerlin - s/v Bacchante, Island Packet 350


"The Sensibuilb™ LED is truly amazing. I have installed 34 Sensibulbs replacing all my Halogens and fluorescents. No heat, warm color and a dramatic improvement to my power consumption.
- Jeff S/V Lazy Bones in Tahiti


"I wouldn't buy them if I didn't think they were the best things out there"
- Greg Peterson, S/v Yankee Dreamer (Perry '47)


"Finally, an LED Light with Some Warmth - Sensibulb™ produced ample light to illuminate the berth. We could easily read Practical Sailor (strangely, there was no paper glare), even when we were 10 feet away and at an angle of about 90 degrees from the light's center."
- Practical Sailor
Click here to see the full article.


"There really is something new out there; a way to go with LED lights and not have to feel like you're living in an operating room; a soft warm light with low energy consumption that uses your existing fixtures."
- Latitudes and Attitutes
Click here to see the full article.


"Sensibulb™ is to LED lights what the incandescent bulb was to candles. The quality of the Sensibulb's light is superior to any other attempt at LED lighting. My batteries and my eyes thank you."
- Pete S/V Regina Oceani


""Super, nice color. They light up the main saloon and don't draw zip!"
- Herb Staruch, S/v Mezzaluna


"The brightness and color is just perfect! Installs in less than a minute"
- Chris Obrien s/v West Wind


"The Sensibulb™ easily outperformed my cold cathode lights with better color quality and brightness"
- Mark Hooper


"Exactly what I was looking for"
- P. Chabot (aboard his Gozzard '36)
Sensibulb™ Specification:
Size: 1.00" x 1.00" x 5/8"
Weight: 0.015 oz (10g)
Typical Current Usage: 0.16 Amps(warm) - 0.2 Amps(cold)
Voltage Range: 10-32 Volts DC
Typical Operating Temperature: 140°-150°F
Radio Interference: 0.00
Ultra Violet Emissions: 0.00
Click here to read about the development of the Sensibulb™.


An excellent LED Bow light. Easy to mount Made in USA!
On Sale Now. MSRP $242.00, Now $195.00!
$209.95


Use the same technology that unlocks your car door to turn your deck lights on before you board from up to 75 Yards away - Makes boarding easier and safer!
$39.00


Compact and rugged Designed for many years of operation. Mounting bracket included Made in USA!
On Sale Now. MSRP $224.00, Now $185.00!
$189.95


Everything you need to upgrade your Yanmar,Perkins or other saddle mount dual foot alternators to the most efficient charging system for AGM or flooded cell batteries

Charge faster Charge better!
$939.95


Use on all electrical contacts to prevent corrosion.

Rated number one by "Practical Sailor" Dec. 2010


$12.95


Compact and rugged Designed for many years of operation Made in USA!
On Sale Now. MSRP $246.00, Now $199.95!
$219.95


Turns ordinary anchor light into distress signal providing an important safety feature.
$99.00


This is the best pole/handle for our line slicing Hooknife. Extends your Hooknife's reach by 6'
$34.95