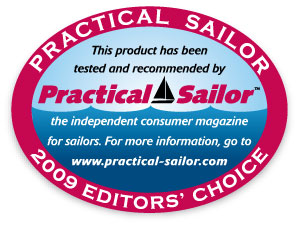 See the Practical Sailor Review Here
The Solo tank monitor attaches its sensor to the outside of your plastic or composite tank. It's a foil tape that connects to the neat looking 2"x 3.5" Solo display panel. Locate this nice looking little display panel anywhere. (Over the toilet in the head is our suggestion) You will now know at a glance your holding tank's level of fill.
Afterall, nothing is just plain more annoying than having a full holding tank while underway.
Since our tank sensor tapes to the outside of your plastic holding tank it can't be fouled and is really easy to install. Just cut it to the vertical length of your tank and set the empty and full calibration points on the Solo's panel memory. You set it once and it's locked in to its memory.
Now that you're installed, this unit automatically checks the tank level every couple of hours and alerts you whit it's red alert Led or just press the "Read" button to see the level of fill. Uses .001 Amps when your batteries are switched on and 0.00 Amps when your batteries are off. We also have a sensor that fits inside a metal tank. This is a clog-proof floatless sensor that is simply cut to length to adapt to various size tanks.
Our tank monitor is also compatible with nearly all sensor types available on the market today making it easy to retrofit into an existing tank system or to install new.
Note: Fuel tank sensors must be ordered seperately. Contact us for details
This display panel also features a
"Full"
light which can serve as a "Do Not Flush" light when installed in your bathroom.
The Solo Tank Monitor is also ideal for all other tanks onboard but if you would like to monitor more than one tank from a single panel check out our Profile 8
Basic Features:
Panel will monitor liquid level on 1 tank.
Panel size: 3.75" x 2"
Data is displayed as a 5 position LED bargraph..
Simple to install, setup and operate.
Compatible with both capacitve level sensors and 240-33 Ohm float sensors.
Features our exclusive EZ-Profile software algorithm which corrects for odd tank shape and sensor type.
Optional autonomous monitoring and tank full alert light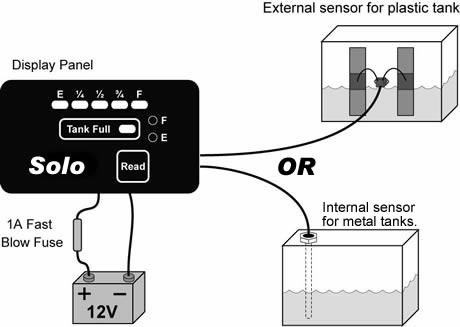 Download PDF Manuals


Use the same technology that unlocks your car door to turn your deck lights on before you board from up to 75 Yards away - Makes boarding easier and safer!
$39.00


An excellent LED Bow light. Easy to mount Made in USA!
On Sale Now. MSRP $242.00, Now $195.00!
$195.00


Hook and pull action slices entangled lines from your prop or rudder!
$64.95


Sensor installs easily on the outside of your tank. Awarded Practical Sailor Editor's Choice 2009
$154.95


This is the best pole/handle for our line slicing Hooknife. Extends your Hooknife's reach by 6'
$29.95


Use on all electrical contacts to prevent corrosion.

Rated number one by "Practical Sailor" Dec. 2010


$12.95


Make your WiFi fast and reliable with our 9 dB hi-gain base station
$399.95



$19.95